The imposing Himalayas inspired Rudyard Kipling to exclaim, 'Surely the gods live here; this is no place for men'. Himachal Pradesh is legendary for the diversity of landscapes it traverses. There are forests, glacial lakes, snow-capped peaks, plains and stretches of ice formed from snow. Himachali villages dot the cliffs and are an extraordinary highlight of your trekking journey. Trekking in Himachal Pradesh is accessible from March to September. The trekking cost in Himachal Pradesh is not very high. Those who want more can take numerous sidewalks leading to waterfalls, valleys and still more summits.
Top 18 Spots For Trekking In Himachal Pradesh
We have shortlisted 18 routes for trekking in Himachal Pradesh that traverse some of the most humbling scenery on the planet. Just a disclaimer, these treks are for serious walkers. Keep this in mind before you set off for these spots:
Kheerganga Trek
Malana Village Trek
Beas Kund Trek
Chandrakhani Pass Trek
Jakhu Temple Trek
Prashar Lake Trek
Hampta Pass Trek
Triund Trek
Bhrigu Lake Trek
Pin Parvati Pass Trek
Deo Tibba Base Camp
Sar Pass Trek
Chamba Trek
Dainkund Trek
Great Himalayan National Park Trek
Bijli Mahadev Temple
Tirthan Valley
Kareri Lake Trek
1. Kheerganga Trek
Kheer Ganga in Kasol is a beautiful, frothy-white mountain river. It falls from high up in the mountains, and the only way to reach it is via a short but arduous trek. The Kheer Ganga Trek is famed all over the country, with trekking enthusiasts raving about the beauty of it. The trek roughly is of no more than 12 km, and can be covered in no more than 5 or 6 hours if you take only a couple of short breaks.
Trekking Days: 1-2 days
Maximum Altitude: 9,711 ft
Difficulty Level: Easy
Must Read: 7 Stunning Lakes In Himachal Pradesh That Are Absolute Natural Wonders
2. Malana Village Trek
Starting from the village of Jari in Himachal, Malana village trek is a 4-kilometer long trail that takes you to one of the oldest villages in India. When you go visit the mountains, if there is one thing that you must do, is to take a long walk on the narrow winding paths that cut into the hearts of the hills. Travelers planning a trip to Kasol must experience the thrill of an enchanting walk from Kasol to Malana. The foggy mornings and the crisp mountain air will clear your mind. It is one of the most enriching weekend treks in Himachal.
Trekking Days: 6 days
Maximum Altitude: 10,000 ft
Difficulty Level: Moderate
Suggested Read: 8 Valleys In Himachal Pradesh That You Must Visit In 2021 For Their Heavenly Landscapes!
3. Beas Kund Trek
Located in the Dhauladhar Range of the Himalayas, Beas Kund is not just a beautiful place but also a place of immense historical significance. To reach Beas Kund, one needs to complete a short trek. It is a 15 to 17 km trek which can be easily covered in three days. It is suitable for all age groups since it is not very strenuous. Also, you don't need to be a pro at trekking for completing this journey. One can stay at the campsites along the path and enjoy the scenic beauty.
Trekking Days: 2 days
Maximum  Altitude: 12,139 ft
Difficulty Level: Easy
Suggested Read: Himachal Pradesh In May: Top 10 Places To Escape The Busy City Life In Summer
4. Chandrakhani Pass Trek
The Chandrakhani Pass Trek covers the beautiful and magnificent view of Deo Tibba and Pirpanjal ranges. It stretches from an altitude of two thousand and fifty meters to three thousand six hundred and sixty meters. It is one of the moderate and low altitude treks in Himachal Pradesh. The journey starts from Naggar and takes you through Rumsu, Ganachalani, and Celanti. Himachal Pradesh trekking couldn't get any better than this.
Trekking Days: 3 days
Maximum Altitude: 12,000 ft
Difficulty Level: Easy
Suggested Read: Travel Tips For Himachal Pradesh: 11 Things You Need To Know Before Visiting This Paradise In 2021
5. Jakhu Temple Trek
Jakhu Temple in Shimla is a temple dedicated to Lord Hanuman and is famed for being home to thousands of adorable monkeys. There is a huge statue of Lord Hanuman at the temple, standing at 108 feet high, which is the cynosure of all eyes. The temple is located on the highest peak of Shimla, at a height of 2455 meters, and is a major attraction in terms of religious travelers. While trekking to the temple, visitors can see the 108-feet tall Hanuman Statue in Jakhu Temple, hidden behind the deodar trees.
Trekking Days: 1 day
Maximum Altitude: 8,054 ft
Difficulty Level: Easy
Suggested Read: 10 Best Places To Visit In Himachal Pradesh In December 2020 For A Snowy Retreat!
6. Prashar Lake Trek
Prashar Lake is surrounded by the imposing Dhauladhar ranges in Kullu Valley. This trekking spot in Himalayas offers breathtaking 180 degree view of the Dhauladhar, Pir Pinjal and Kinnaur mountain ranges.To reach Prashar lake, one can go through two routes- one is through Baggi village and the other from Jwalapur village. The trek through Baggi village is a bit difficult as compared to that of the Jwalapur route. It is a perfect winter snow trek from Delhi.
Trekking Days: 1-2 days
Maximum Altitude: 8,960 ft
Difficulty Level: Easy
Suggested Read: Top 5 Waterfalls In Himachal Pradesh That Treat Your Eyes To The Best Sights Ever!
7. Hampta Pass Trek
Hampta Pass gets its name from the Hamta Village located in the Pir Panjal region. At 14000 feet, this place is mostly ventured by shepherds and a handful of trekkers. Surrounded by glaciers, rivulets, jagged mountains and meadows, Hampta Pass trek is one of the toughest treks in Himachal Pradesh. You cannot venture on this trek without the Himachal Pradesh trekking map.
Trekking Days: 5 days
Maximum Altitude: 13,500 ft
Difficulty Level: Easy to Moderate
Suggested Read: 15 Things To Do In Auli To Make Your 2021 Himachal Vacay Exciting And Productive
8. Triund Trek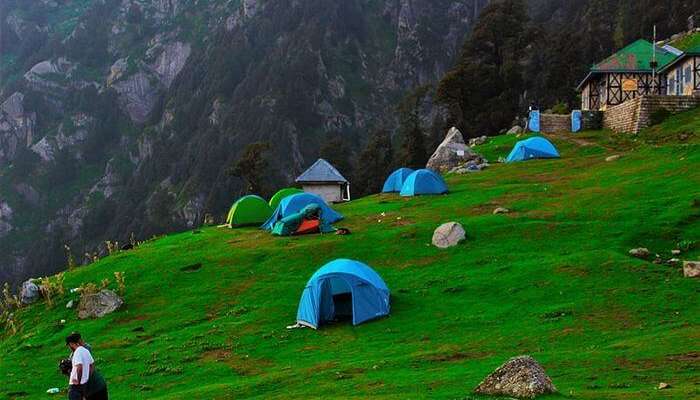 Image Source
If you are looking for solo treks in Himachal, then you should definitely head to the trails of Triund and have a rendezvous with the mountains. The ranges of Dhauladhar look gigantic and wonderful. Enjoy camping beneath the stars in the night and have a bonfire. You will feel lucky to be in the presence of such scenery. There isn't any place like Triund on earth. If you don't believe us, check it out yourself.
Trekking Days: 2 days
Maximum Altitude: 9,350 ft
Difficulty Level: Easy
Suggested Read: 8 Churches In Himachal Pradesh That Are Perfectly Enveloped Within Hills
9. Bhrigu Lake Trek
Located at an altitude of 14,000 ft, Bhrigu Lake trek will give you an ultimate high. There is no other Himalayan trek where you get to reach such an impressive in just two days. Since the ideal time to do this trek is during May-June, it is one of the best summer treks in Himachal Pradesh. It could be a little overwhelming for a beginner because the trails of this trek are a little too steep.
Trekking Days: 3 days
Maximum Altitude: 14,000 ft
Difficulty Level: Easy to Moderate
Suggested Read: Romance In The Hills: 15 Best Honeymoon Destinations In Himachal Pradesh In 2021
10. Pin Parvati Pass Trek
For those who are looking for tough treks in Himachal, Pin Parvati is a great option. The trek takes you at an impressive height of 16,000 ft and offers you mesmerizing landscape. It is not an ideal trek for beginners or novice as the trail is difficult and challenging. Even experience trekkers require good stamina to venture in this trek. You will go through high mountain passes, undulating meadows, snowy landscapes, and boulders. Since it is a 9-day trek,you should also be mentally prepared for it.
Trekking Days: 7-8 dyas
Maximum Altitude: 17,450 ft
Difficulty Level: Difficult
Suggested Read: 10 Awesome Things To Do In Kufri That'll Enrich Your Himachal Travel Experience In 2021!
11. Deo Tibba Base Camp
If you are feeling ambitious, then you can do Deo Tibba Base Camp trek which lies on the base of Deo Tibba mountain. Lying in a remote region, the trek offers you tasteful views of nature and mountain landscapes. You will come across various challenges on this trek which will prepare you for more challenging mountain treks and expeditions. This trek is not appropriate for beginners as it requires strength and endurance.
Trekking Days: 5-6 days
Maximum Altitude: 20,000 ft
Difficulty Level: Difficult
Suggested Read: 14 Surreal Hill Stations Near Pathankot One Must Explore To Get The Best Vibe Of Himachal Pradesh In 2021!
12. Sar Pass Trek
Another trek sprouting out from Kasol region is Sar Pass Trek which will offer you mesmerizing views of the Himalayas. From the campsite to the alluring views, everything about this trek is so special and charming. The trail is dotted with pine and deodar trees and the meadows bloom with flowers of variegated colors. Sar Pass really is a mystical tour in the mountains.
Trekking Days: 4-5 days
Maximum Altitude: 14,000 ft
Difficulty Level: Moderate to Difficult
Suggested Read: 10 Best Homestays In Himachal Pradesh That'll Make You Fall In Love At First Sight!
13. Chamba Trek
Image Credits: Bhattnitesh29 for Wikimedia Commons
Starting from Dalhousie is the trek to Chamba that all thrill-seekers should conquer at least once. Offering the mesmerizing views of the magnetic natural wonders, open blue skies, and the lush green foliage, the Chamba trek is as marvelous as it can get. This trek is one of the important ones for Himachal Pradesh as apart from the surreal paths moving along the deodar jungles, other highlights of the trek are the alluring sights of majestic Dhauladhar and Pir Panjal ranges.
Trekking Days: 3 days
Maximum Altitude: 3,270 ft
Difficulty Level: Easy
Suggested Read: 10 Best Restaurants In Kullu That Will Give You The Flavor Of Himachal
14. Dainkund Trek
Image Credits: Mayuresham for Wikimedia Commons
Being the highest peak in the entire region of Dalhousie, Dainkund Trek is perfect for all the thrill seekers out there seeking trails for trekking in Himachal. This peak offers the 360 degree view of the entire valley and hence, leaves the spectator awe-inspired. This peak is also known as the singing peak thanks to the melodious rhythms that the trees produce. From pine to oak, there are plenty of different species that one can witness here. Apart from that, there is also a temple which sits atop which further makes it serene.
Trekking Days: Day trek
Maximum Altitude: 9000 ft
Difficulty Level: Easy to moderate
Suggested Read: 8 Best Restaurants In Dalhousie That You Must Visit While You Are On A Trip To Himachal in 2021
15. Great Himalayan National Park Trek
Image Credits: Pbhuker007 for Wikimedia Commons
The experience of trekking till the Great Himalayan National Park is as ecstatic as it can get. Sitting in Shilt Thatch, this trek takes one to the magical spot of wild species and a bundle of natural wonders. Just imagine witnessing spots of sunlight passing through the rough leaves of towering trees that form a canopy above your head. Cross the River Tirthan, sit by the calm waters, soak in the peace, and get a chance to witness several species of rare birds and animals.
Trekking Days: 5 days
Maximum Altitude: 10,000 ft
Difficulty Level: Moderate
Suggested Read: 10 Restaurants In Mandi That Serve Traditional And Famous Dishes Of Himachal (2021)
16. Bijli Mahadev Temple
Image Credits: Devesh Kapoor 
Out of all the trails for trekking in Himachal, Bijli Mahadev Temple is perhaps one of the most rewarding ones. It only takes a few hours to conquer the peak, but the stellar views that this destination has to offer are unmatchable. After the climb, one can observe the shiva temple, a metal trishul, and a shiva linga made entirely out of butter. The peculiar thing about this is that Shiva Linga, even though made out of butter, never melts! After climbing a further up, crossing the temple, one can head to the backside of the hill that offers views that will leave your jaws dropped, heart pumping, and eyes teary because of its beauty.
Trekking Days: 1 day
Maximum Altitude: 8,000 ft
Difficulty Level: Easy
Suggested Read: 10 Secret Places In Himachal Tourists Haven't Discovered Yet In 2021!
17. Tirthan Valley
Image Credits: Ankitwadhwa10 for Wikimedia Commons
There is no dearth of stunning hill stations in the region of the Himachal. One such peak is the Tirthan Valley that has seen a tremendous increase in the footfall in the recent years. Tirthan Valley might get a little crowded but that is exactly what helps you meet the various like-minded people, trekking and traveling. This valley is not only a perfect escape from the concrete jungles but is also a great spot to lose yourself into nature's lap. Tirthan Valley is a great place for those who are looking for a long vacation in the heart of the mountains of the country.
Trekking Days: 8 days
Maximum Altitude: 4,921 ft
Difficulty Level: Moderate
Suggested Read: Nikhil & His Wife Just Needed A Couple Trip To Himachal To Embrace Their First Snowfall Experience!
18. Kareri Lake Trek
Image Credits: Shalabh for Wikimedia Commons
Trekking in Himachal is all about escaping the monotonous and busy life back at home. One such is the Kareri Lake Trek that is perfect to witness the most exquisite and picturesque views of the natural marvels in their best form. Sitting in Kangra district, Kareri Lake trek passes along the trails that have chir and chilgoza pines lining them proudly. The trees, the lake, the camps, and the open skies is truly paradisiacal for not only the nature lovers but also the shutter bugs out there, trying their hands on some brilliant landscape photography.
Trekking Days: 3 days
Maximum Altitude: 9600 ft
Difficulty Level: Easy to moderate
Further Read: River Rafting In Himachal Pradesh: Navigate Himalayan Waters On Your Mountain Getaway In 2021
Trekking in Himachal Pradesh is no walk in the park. It will challenge your physical strength and mental endurance and amplify your views of the place. These trekking routes in Himachal Pradesh not only push you to test your limits but also show you the raw and rugged beauty of the lofty Himalayan ranges. It is not that hard to fall in love with this destination's scenic beauty. Book your trip to Himachal Pradesh right away with TravelHub to avail exciting deals. Share the highlights of your trekking trip with us in the comment section below!
Disclaimer: TravelHub claims no credit for images featured on our blog site unless otherwise noted. All visual content is copyrighted to its respectful owners. We try to link back to original sources whenever possible. If you own rights to any of the images and do not wish them to appear on TravelHub, please contact us and they will be promptly removed. We believe in providing proper attribution to the original author, artist or photographer.
Frequently Asked Questions About Trekking In Himachal Pradesh
Q. What is the most popular trek in Himachal Pradesh?
A. Himachal Pradesh is known for its fierce and adventuresome treks that keeps the adrenaline rush running. There are a few popular treks that one can try in Himachal Pradesh such as Hampta Pass, Deo Tibba Base Camp, Buran Ghati, Pin Parvati Pass, and Friendship Peak.
Q. Where can I trek in Manali?
A. Manali is nothing less than paradise on earth for those who are seeking to engage in some thrilling treks. There are more than 20 trek trails that tourists can conquer such as Beas Kund Trek, Bhrigu Lake Trek, Deo Tibba Trek, Chandratal Lake Trek, and many more. The trek trails in Manali are for all kinds of travelers from beginners to professionals.
Q. How do you trek to Kheerganga?
A. It is better to hire a guide when trekking to Kheerganga. One can set up their base camp at Kasol maximum by 10 in the morning. After reaching Barshiani, one can start their Kheerganga trek. It takes about 5 to 6 hours to complete the 12 km trek, depending upon the speed of the traveler.
Q. What can you do in Kasol?
A. Kasol has slowly emerged as one of the most popular destinations to visit in Himachal Pradesh. There are numerous things that one can do in Kasol including trying out some amazing cafes, shopping, mingling with the locals, witnessing the scenic views, star gazing, camping, and much more.
Q. Which is better Manali or Kasol?
A. The answer to this question lies in the tastes and preferences of travelers. If one is seeking a laid-back, relaxing vacation, then Kasol would definitely be a better option. However, if a traveler is looking for a luxurious vacation and utmost comfort, traveling to Manali would be advised.
Q. What is there to do in Manali at night?
A. Manali gets alive at night. One of the most vibrant and lively towns of Himachal Pradesh, Manali is home to some of the hottest nightclubs and bars that travelers can go check out. Lazy Dog Lounge, La Plage, Chelsea Club, The Buzz, and Khyber are a few bars that one can visit to witness the nightlife of Manali.
Q. Which is the most difficult trek in Himachal Pradesh?
A. One of the most challenging treks in Himachal Pradesh is the Pin Parvati Pass trek that is located at an elevation of 5,320 meters.
Q. Which is the easiest trek in Himachal Pradesh?
A. There are numerous treks in Himachal Pradesh that are perfect for those who are just starting their journey of trekking. Triund Trek, Bhrigu Lake Trek, Kareri Lake Trek, and Prashar Lake Trek are a few of the easy treks.
---
People Also Read:
Trekking In Sikkim Trekking In Uttarakhand Trekking In Coorg
Comments
comments