Ireland is all about rich heritage, rugged terrain, exquisite landscapes, a source of artistic inspiration, and extremely warm and friendly people. Exuding oodles of the unique Irish charm, these fascinating Emerald Isles are a treasure chest of fun experiences and sights, giving rise to a number of places to visit in Ireland. From nature, history, to the best coffee in the world, also famous for its beers, this birthplace of the Game of Thrones has a lot to offer to all kinds of travelers. Have a memorable time on your European holiday with all these places to visit in Ireland.
24 Best Places To Visit In Ireland
Here we have highlighted a few of the best places to visit in Ireland of interest which is just the tip of the iceberg:
Dublin City
Cliffs Of Moher
Killarney National Park
The Rock Of Cashel
Dingle Peninsula
Galway City
Downhill Beach
Sligo
Blarney Castle
Cork
The Aran Islands
Belfast
Ring Of Kerry
The Burren National Park
Glendalough
Ireland Tourist Attractions Map
Donegal
The Old Jameson Distillery
Antrim
Clare

Iron Islands In Ballintoy Harbour

Derry

Connemara

Giant's Causeway & Causeway Coast
1. Dublin City
Dublin city is an interesting fusion of old world charm and modern vibrancy. A city of literature, Guinness serving pubs, medieval churches, and Georgian walkways, Dublin is without a doubt among the best places to visit in Ireland. So, if you are a literature lover, then, you need to visit this place!
Best time to visit: May to August
2. Cliffs Of Moher
Image Credit: Mobilus In Mobili by flickr
The magnificent Cliffs of Moher are one of the popular places to visit in Ireland 2021 featuring the most breathtaking views of the entire island. This beautiful natural phenomenon was carved out by a gigantic river Delta over 320 million years ago. The top is verdant lush green meadows with the bottom drenched in the musical sounds of the waters of Galway Bay crashing against the cliffs. You have got to include this in your list of Ireland sightseeing.
Best time to visit: April to September
Suggested Read: 15 Hotels In Ireland That Let You Experience Irish Hospitality
3. Killarney National Park
Image Credit: Tony Webster by flickr
The Killarney National Park is the oldest National Park and an incredible biosphere reserve. The park houses the country's only population of red deer and other rare species. It also has many man-made structures such as the Castle of Ross. Killarney National Park definitely deserves a place in the list of best places to visit in Ireland. While visiting Ireland with your kids, make sure you add this place in your itinerary!
Best time to visit: March to November
4. The Rock Of Cashel
The dramatic Rock of Cashel is one of the best places to see in Ireland. This imposing structure with gothic tones was the seat of the ancient Irish kings for more than seven centuries. Amongst the finest of medieval architecture, it houses the High Cross, Romanesque Chapel, a castle, a round tower, and a gothic cathedral, a lot of sites that will give you a soul-stirring experience!
Best time to visit: May to October
Timings: 9 AM – 7 PM
Suggested Read: 10 Fun & Exciting Things To Do In Ireland
5. Dingle Peninsula
Image Credit: Daniel Stockman by flickr
Dingle Peninsula, unmatched in its dramatic beauty, is one of the essential places to visit in Ireland. Ringed by sandy beaches, rolling hills, lofty mountains, and craggy cliffs, Dingle Peninsula never fails to attract visitors with its charm and unique Irish culture. One must try the Dingle Dolphin Tour here which is one of the favourite Ireland points of interest.
Best time to visit: May to October
6. Galway City
The biggest city in the West, Galway is one of the good places to visit in Ireland. It is a vibrant university town with one of the youngest populations in all of Europe. Galway City should be in your list of places to visit in Ireland for its unique charm, lively atmosphere, history, and streets with colorful facades. The city comes alive during the Art Festival held here in July every year.
Best time to visit: April to August
Suggested Read: 15 Dublin Hotels That Offer The Best Of Hospitality And Comfort In Ireland
7. Downhill Beach
Situated in Northern Ireland, this seven-mile stretch of fine sand offers a wealth of activities including water sports, which is why it's one of the best places to visit in Ireland. When here, one must also visit the prominent Mussenden Temple, which happens to be one of the most photographed buildings in Northern Ireland. Downhill Beach also fascinates Game of Thrones! It had appeared in season two when Stannis Baratheon allows Melisandre to burn their effigies as an offering to the Lord of Light.
Best time to visit: Year-round
Suggested Read: 10 Most Popular Resorts In Ireland: Epitomes Of Class, Elegance, And Stunning Views
8. Sligo
With its rugged landscapes that are characteristic to Ireland, Sligo is a picturesque destination and one of the best places to visit in Ireland for adventure lovers. Sligo offers a great opportunity to go surfboarding on the crashing waves and explore the rolling hills via their picturesque hiking trails.
Best time to visit: June to August
Suggested Read: 10 Things To Do In Dublin For A Taste Of Fun And Frivolity In Ireland
9. Blarney Castle
Image Credit: Ddave45 by pixabay
Blarney Castle has seen a fair share of violence and visitors flock here to see what is left of the castle. The most popular of Ireland tourist attractions on the ground, however, is the famous Blarney Stone which tourists can kiss while hanging upside down from a wall drop. The belief behind this weird custom is that successfully kissing the stone supposedly heightens the kissers eloquence. Irrespective of your intentions, Blarney Castle is one of the beautiful places to visit in Ireland and one that should not be missed.
Best time to visit: March to May and September to November
Timings: 9 AM – 6 PM
10. Cork
Image Credit: RichardMC by Pixabay
Cork tops the list of best places to visit in Ireland for the locals, and for good reason. Cork has some of the best food scenes in the country with pubs, cafes, bars, and restaurants cramming its narrow streets. Vibrant art galleries and unusual museums define this laid-back, breezy cosmopolitan city in Ireland.
Best time to visit: March to May and September to November
Suggested Read: Ireland Honeymoon Guide: All You Need To Know For Celebrating Your Special Vacation The Irish Way
11. The Aran Islands
Image Credit: sktlloyd3 by Pixabay
The Aran Islands located on the westernmost part of Ireland is a fascinating set of three islands. Inis Mor is the largest and houses the famous 2000 year old fortress, Dun Aonghasa. It is the most interesting and most visited of the three Aran Islands.
Kilronan, the only real town in the Aran Islands is actually just a village, and a fascinating one at that with a handful of pubs, restaurants, and B&Bs. On your visit to the islands, remember to bring cash as there are no ATMs here. So now you know where to go in Ireland if you really want to experience the true Gaelic charm unmarred by modern developments.
Best time to visit: May to August
12. Belfast
Image Credit: Andrew Hurley by flickr
Belfast is Ireland's brand new city and its major draw is the shipyard where the ill-fated ship Titanic was built. One of the most interesting things to see in Ireland, Titanic Belfast has six floors imitating the height of the Titanic with 9 galleries, interactive exhibitions, underwater theatre, and rides.
Best time to visit: April to June
Timings: 9 AM – 6 PM
Suggested Read: Dublin Nightlife Scenes: Top Pubs & Night Clubs To Party Hard Like An Irish
13. Ring Of Kerry
Image Credit: Tony Webster by flickr
The Ring of Kerry's untouched and rugged landscapes are what make it the best of Ireland vacation spots. One of the most fascinating places to see in Ireland, Ring of Kerry is a photographer's delight with its stunning scenery that changes hues with the falling light. Facing the Atlantic Ocean, it has some of the most phenomenal beaches in Ireland.
Best time to visit: May to October
14. The Burren National Park
Ireland's smallest national park is one of the best places to visit in Ireland. The area found within is renowned for its karst landscape. The park is brimming with ancient history and archaeologists have found several megalithic tombs and many other medieval structures here. A walk in this park is compared to walking on the moon and this place should definitely be included in your Ireland travel itinerary.
Best time to visit: May
Timings: 9:30 AM – 5:30 PM
Suggested Read: 12 Popular Places To Visit In Dublin For A Perfect Irish Vacation
15. Glendalough
One of the most fascinating Ireland places to visit, Glendalough is home to the most important monastic sites in Ireland. These extensive medieval ruins have an interesting story to tell about its rich history and unmatched beauty. The two dark and mysterious lakes are the most fascinating of Ireland tourist attraction in this place.
Best time to visit: April to October
Timings: 9:30 AM – 6 PM
16. Powerscourt House And Gardens
This is a house owned by a rich family but what makes it one of the most beautiful places to visit in Ireland is the fact that it offers such views and a soul-soothing backdrop. Walk in the garden with an aura of a glorious past and enjoy the tranquil views like never before. It is an altogether different experience!
Best time to visit: September and early October
Timings: 9:30 AM – 5 PM
17. Donegal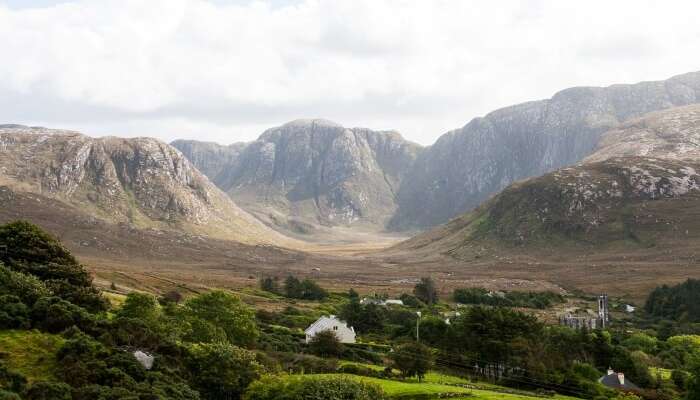 This is a county in the country of Ireland that majorly has people who speak Irish and shares the borders with the Atlantic Ocean in the northwestern region of Ireland. The place is known for castles that are enveloped within rocky coastlines and breathtaking mountains like quartzite Mount Errigal. The county also has a national park, Glenveagh National Park. It once used to be a private property that featured lakes, bogland, and forests.
Best Time To Visit: September
18. The Old Jameson Distillery
Image Credit: Levoqd by Pixabay
This place is located in the capital city of Dublin. It is a prominent tourist attraction for the whiskey lovers who get a chance to taste the best Irish whiskeys. This distillery is popular because of its worldwide prominence. There are also a lot of events that are organized at this place – an opportunity where the tourists get to mingle with the locals! Enjoy a wide variety of whiskeys and make the most of your tour in the capital city.
19. Antrim
This is a town located in the northern region of the country of Ireland. It is also a parish that is a part of County Antrim that lies in the northeastern region of North Ireland. The town has been established upon the banks of Six Mile Water found at a distance of only a half-mile from the northeastern region of Lough Neagh. When looking for places to visit in Ireland for families, then consider visiting this county town!
Best Time To Visit: Anytime during the year because of unpredictable weather
Suggested Read: 10 Magnificent Churches In Netherlands
20. Clare
It is one of the counties of Ireland located in the western region of the country. Clare is known for The Burren – a rugged wilderness area that features monuments that date back to the Stone Age as well as age-old churches. The county town of Clare is considered to be Ennis, which is also the largest settlement here. The county is historically as well as culturally rich and is one of the best historical places to visit in Ireland.
Best Time To Visit: November to April
21. Iron Islands In Ballintoy Harbour
The makers of the Game of Thrones love Ireland and Ballintoy is the home to the Iron Islands. Ballintoy Harbour is one of the best cities to visit in Ireland and features a relaxed and peaceful ambiance. It is a small harbor having space for a few boats. The place purveys a tranquil vista, where one can witness boats gently rocking in the billows amidst serene landscapes. The water here is quite clear and one can easily glance the fishes swimming around the boats. One can also hop into the nearby stone cottage that serves delicious local delicacies.
Best time to visit: March to November
Suggested Read: 7 Best Winter Airbnbs In Europe
22. Derry
Derry is one of the most unique places to visit in Ireland as it is the only completely walled city in Ireland. One can take a walking tour to explore these stony ramparts and listen to the enticing stories of the brutal 17th century. This tour will complete at the Ebrington Square after you cross the Peace Bridge. You can visit the famous Walled City Brewery and toss the glass for this unique city of Ireland.
Best time to visit: April to December
23. Connemara
Another amazing place in the map of Ireland is the vibrant Connemara. This mesmerizing place features numerous surprises from bogs to lakes and mountain vistas, that make the visitors fall in love with it. The serene villages of Connemara shower the colorful vistas where one can dive in, admiring the beauty and diversity of nature.
Best time to visit: June to August
24. Giant's Causeway & Causeway Coast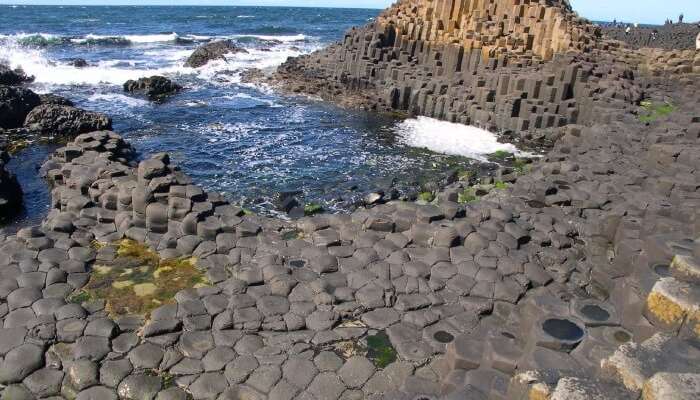 This magnificent place lies at the foot of the basalt cliffs in Northern Ireland. The Giant Causeway is made up of over 40,000 massive black basalt columns that stick out of the sea. The place is a unique experience that one must not miss out on while holidaying in Ireland!
Best time to visit: Throughout the year
Map Of Ireland
Further Read: This Bubble Hotel In Ireland Allows You The Dreamiest Glamping Experience Ever
From rugged mountains, underground caves, ancient cathedrals, to popular GoT locations, there's a lot to explore in the Irish landscapes. If you are hungry for adventure and history, then do plan an excursion to the above-mentioned places to visit in Ireland! So, now, don't think too much and book your trip to Ireland right away!
Disclaimer: TravelHub claims no credit for images featured on our blog site unless otherwise noted. All visual content is copyrighted to its respectful owners. We try to link back to original sources whenever possible. If you own the rights to any of the images, and do not wish them to appear on TravelHub, please contact us and they will be promptly removed. We believe in providing proper attribution to the original author, artist or photographer.
Please Note: Any information published by TravelHub in any form of content is not intended to be a substitute for any kind of medical advice, and one must not take any action before consulting a professional medical expert of their own choice.
Frequently Asked Questions About Places To Visit In Ireland
Is Ireland an expensive place to visit?
Yes, a few places in Ireland are no doubt an expensive place to travel but you can opt for pocket-friendly alternatives like staying is one of the best hostels in Ireland, it will save your money and give an entirely different chance to explore this beautiful place. There are numerous less-expensive places such as Dublin where one can get affordable stays and food options.
How much is a meal in Ireland?
A meal for a single person from an inexpensive restaurant will cost you around 15.00 €. However, if you are visiting a mid-range dine-in, then a three-course meal for 2 people will cost 56.00 €. McMeal at McDonald's can be a savior which costs 8.00 €
What should I pack for a trip to Ireland?
One must surely pack a few of the necessary items such as a balaclava, a travel adaptor, swimsuit, waterproof rainboots, GoPro, multiple memory cards, earplugs; when heading for vacations to Ireland.
---
Comments
comments